Top sport and trad climbing routes at City of Rocks
For any climber, visiting the City of Rocks National Reserve is a magical experience. The landscape is covered with endless rock fields and features. It literally looks like a climber's playground. Not to mention the adjacent Castle Rock State Park, which is equally as impressive. If you're looking for some fun, varied climbing, the City of Rocks is definitely worth a trip – it has climbing for everyone… sport, trad, single pitch and multi-pitch routes. There's even enough hiking trails around that can still be fun if you're not into climbing.
One of my favorite things about the City of Rocks are that the campsites are dispersed throughout the park among the climbing features and boulders. So, you could be camping across the street from Elephant Rock or Bath Rock. Or if you're lucky, camping next to a no-name boulder where you can scramble up to the top and enjoy the sights and a picnic.
We've been to the City of Rocks quite a few times and always have a fun experience. It's crowded on weekends and campsites need to be booked well in advance, but the climbing is enjoyable, varied and rock quality is solid. The granite is varnished and pocketed providing fun features and edging.
Most routes have mixed protection, so be sure to read the guide books and know your beta before climbing. While the majority of routes are single pitch, there are definitely good multi-pitch routes at City of Rocks and especially at Castle Rock. Here are some of our favorite classic climbs at the City of Rocks, all single pitch routes.
Wheat Thin, Elephant Rock
Trad, 5.7
1 pitch, 120'
This is one of the most enjoyable 5.7 routes I've ever climbed. Wheat Thin follows a thin flake feature up the east side of Elephant Rock. The climb starts out fairly easy and then steepens towards the top of the flake for mixed hand jamming and face climbing to the top.
Be sure to bring a 70 meter or 2x 60 meter ropes for the rappel from fixed anchors on the top.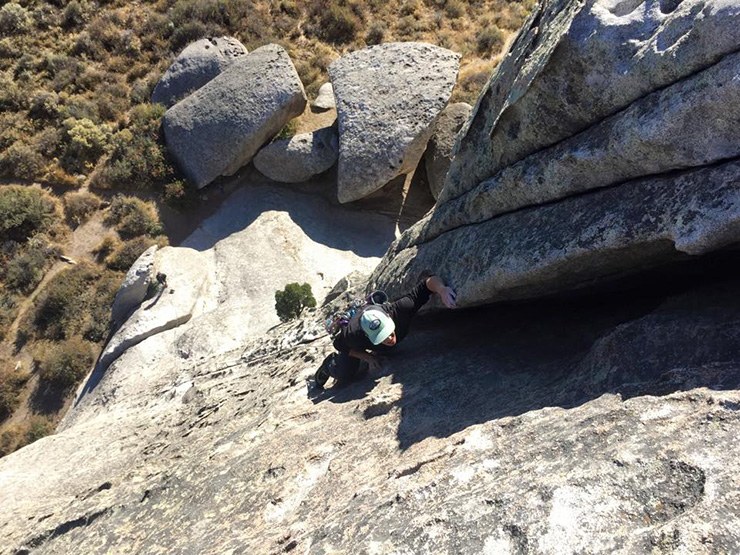 Skyline, Morning Glory Spire
Trad, 5.8
1 pitch, 100'
Skyline goes up the NW skyline (you guessed it!) of the beautiful Morning Glory Spire. This route is a fun, featured trad climb with cracks, flakes and face climbing. Follow the crack/flake system up to the crux of the route, which is a somewhat spicy undercling move traversing to your left (this move can be challenging to protect). Keep climbing up this new crack system and move out on to the leftward face for fun, easy juggy climbing to the top (there's not a lot of protection here either until you reach the summit).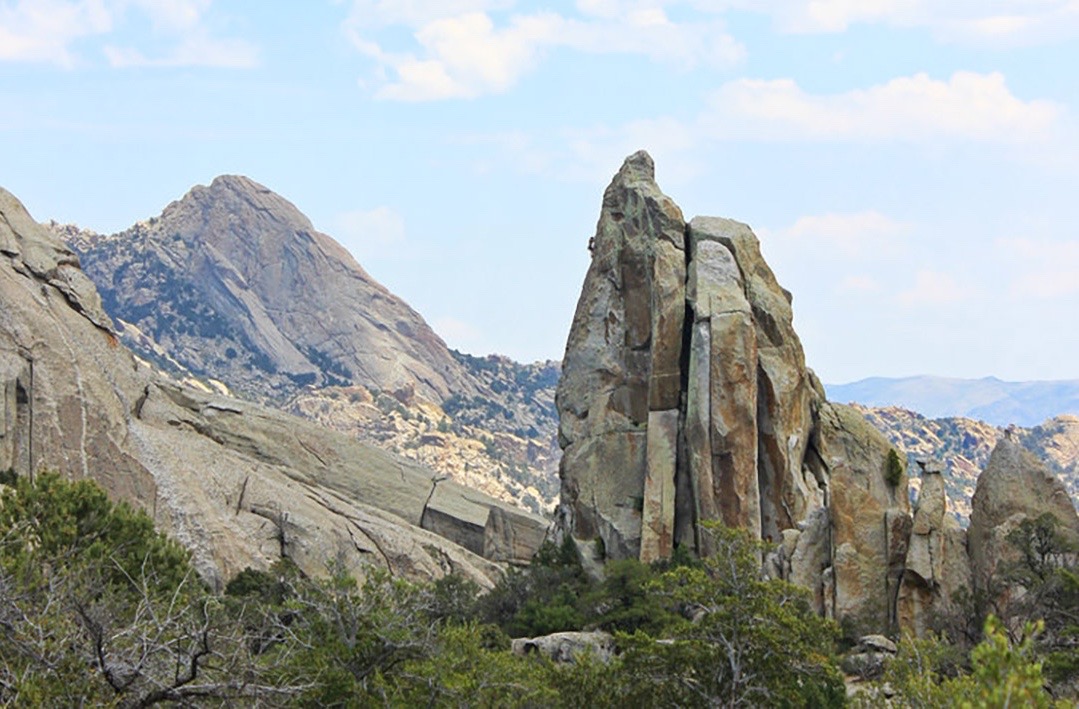 Photo courtesy of Mountainproject.com
Private Idaho, Bath Rock
Trad, 5.9
1 pitch, 90'
Private Idaho follows a corner crack system up to the left of Colossus (mentioned below) on the backside (west side) of Bath Rock. It's pretty straightforward crack climbing up featured patina rock.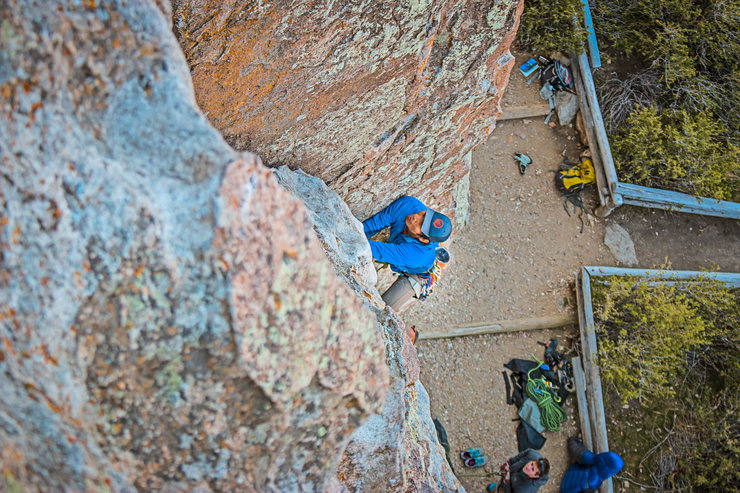 Photo courtesy of Mountainproject.com
Colossus, Bath Rock
Sport, 5.10c
1 pitch, 80'
Colossus is a popular route on the backside (west side) of Bath Rock. The line trends leftward through a low roof and a few huecos. The main crux is pulling left through a large hueco that's about 60 feet into the climb. (Personally, I didn't make it past this hueco… so good luck!).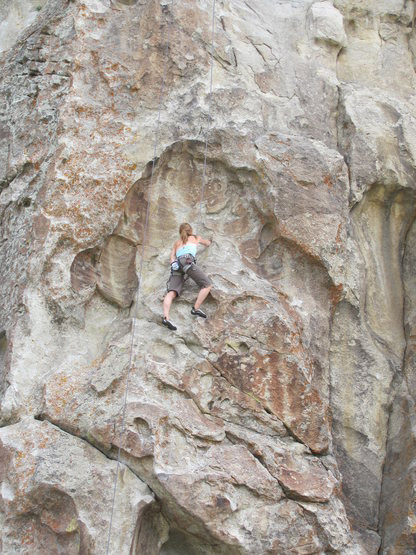 Photo courtesy of Mountainproject.com
Tribal Boundaries, Flaming Rock
Sport, 5.10a
1 pitch, 60'
Tribal Boundaries is one of the more scenic climbs at the City of Rocks. The route runs on the northern end of the west face of Flaming Rock. There are two routes from the belay start, Tribal Boundaries is the left bolted line (there's also a bolt for the belayer at the start). It's a fun, featured climb with ample patina edging and a sloping finish.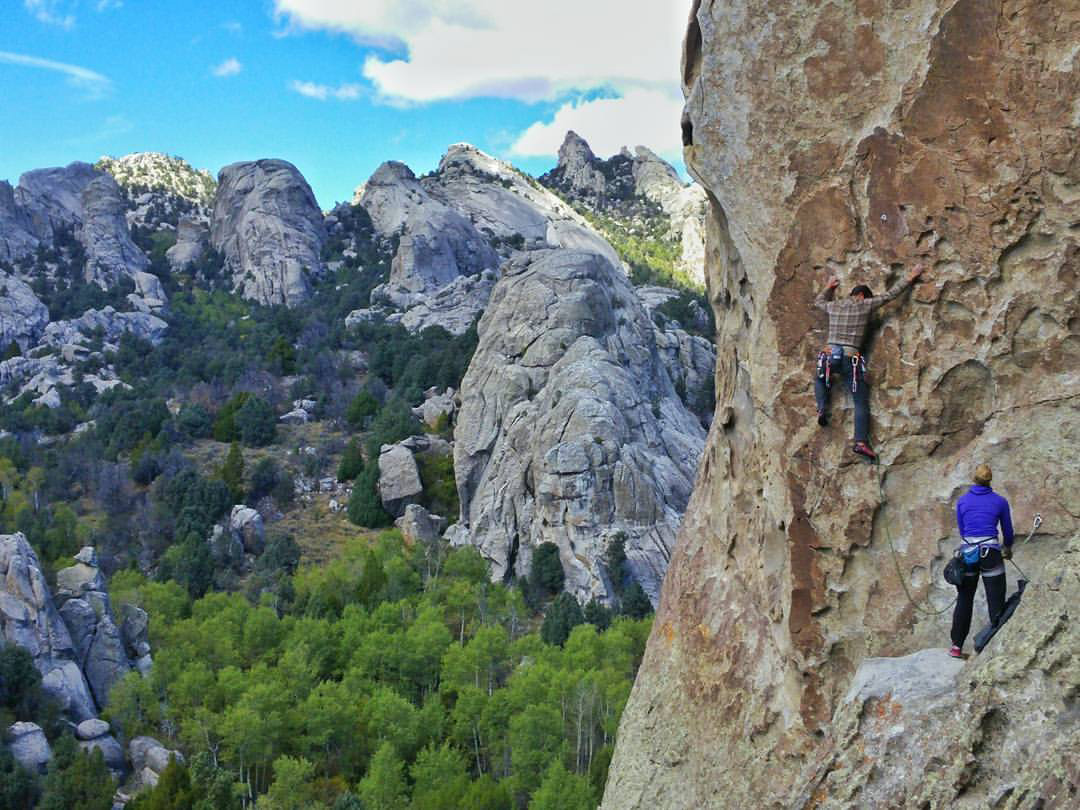 Photo courtesy of David Bauer
If you go…
Driving
Driving from Boise:
It's about a 3 hour 15 minute drive from Boise. Drive east on I-84 until exit 208 for Burley, ID. Continue south on Highway 27 until Oakley, then take a left at East Main Street, which turns into Birch Creek Road. Stay on this for about 12 miles and then take a left on the City of Rocks access road (Emery Canyon Road) leading to the park.
Driving from Salt Lake City:
It's about a 3 hour drive from Salt Lake City. Drive north on I-15 (I-15 and I-84 eventually merge) and take exit 5 on I-84. Turn left on Highway 30, which eventually turns into Highway 42 and 81. Turn left on Strevell Road and turn right after about 16 miles then left onto Ey Road. You'll hit the the Elba-Almo Road and turn right then shortly after a left into the park access road.
Climbing
Best time of year to climb:
Early summer to fall (June to October)
Find an online guide for rock climbing routes at Mountain Project.
City of Rocks climbing guidebook from Amazon here.
Camping
Camping can be reserved online at Reserve America. A guide to the campgrounds can be found here (my personal favorite is camping spot 46).
There are a few different camping areas at the park. We've camped in just about all of them.. The most confusing to find was the Smoky Mountain Campground, which is RV friendly and now has yurts! Once you've turned down the access road to City of Rocks, take your first left and continue past the RV dump station and equestrian campsites.
Feature photo courtesy of Visitidaho.gov