Accessible Backcountry Skiing at Source Lake, Alpental Lakes Wilderness
We went up to Source Lake area for some easy backcountry skiing at Alpental this past weekend. Well, us and the rest of Seattle (there were at least 20 other skiers in the same area, which is a lot for any backcountry access). Source Lake, Snow Lake and Pineapple Pass are popular Alpental backcountry skiing spots that are a quick drive from Seattle and an easy skin from your car.
Where: Source Lake, Alpental Lakes Wilderness, WA
Drive time (from Seattle): 1 hour
Skin time (to Source Lake): 45 minutes
Take I-90 out to Snoqualmie Pass, then from exit 52 take the Alpental Access Road to the last parking lot. From there, you'll be able to ski to/from your car. We arrived at the parking lot fairly early, around 8:00 a.m. There were only a few cars there at that time, but when we returned, the lot was brimming full with more than just backcountry skiers.
From your car, take the obvious skin route starting on the plowed road (used by hikers, backcountry skiers and sledders). The main skin track will follow the banks of the South Fork of the Snoqualmie River. Our trip beta said take the road to the end, cut left of the creek and continue up to Source Lake basin. There was no obvious path left of the creek, so we continued on the only skin path moving forward (right of the creek). We quickly learned that we were on someone's skin track, not the main skin track. Our route included taking our skis off and hauling them up almost vertical pitches of "snow" climbing around a waterfall. Yeah, not ideal.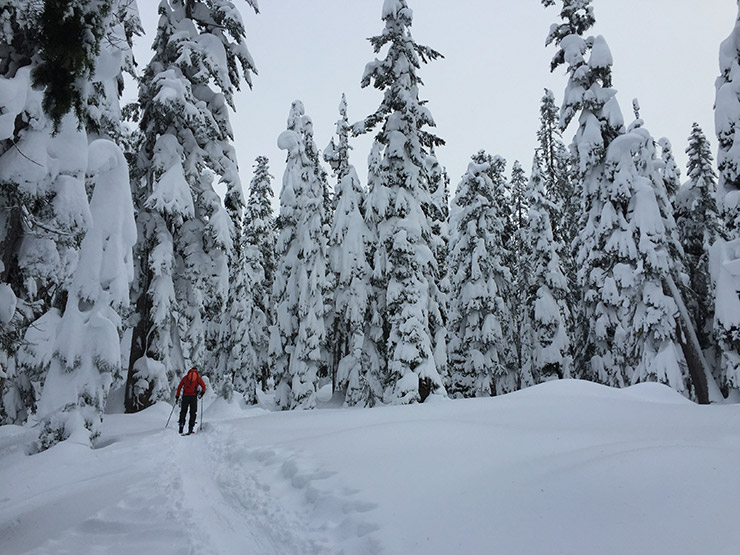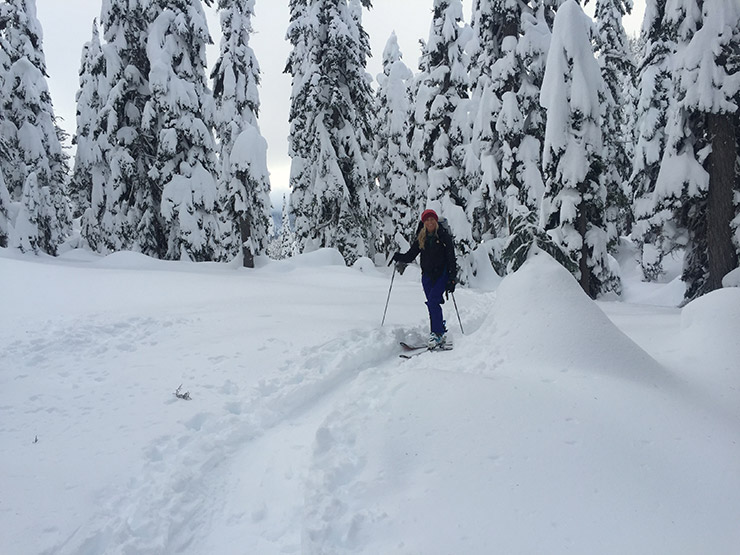 Once we got high enough in the Source Lake basin, it was obvious that the main skin track runs climbers left of the creek and cuts off left before the end of the road. This would have likely saved 30 minutes off our skinning time (we skied this path back to our car). This route travels through avalanche terrain so keep a look out for slides (we saw a small one directly on the skin path) and be prepared for avalanche safety.
Our original plan was to skin up to Pineapple Pass, but due to visibility issues, we couldn't see an obvious path up there. Visibility was low and it wasn't until we were up past Source Lake where we could see the actual peaks.
Since this was our first time backcountry skiing in the Alpental area, we opted to stay on the more mellow terrain in the Source Lake basin. There are steep chutes and cliffs to the south and large open glades to the north for prime backcountry skiing.
The snow was a little crusty higher up, but soft down lower. The lower lines were fairly tracked out for backcountry skiing. Overall, despite not snowing for over a week, the snow was surprisingly good and there were still freshies to be had.
The open glades are an easy and fun area to lap if you're looking for turns. If you're interested in steeper terrain, try the chutes around Pineapple Pass (by the Tooth). Or if you'd prefer to beat the crowds, continue skinning up to Snow Lake.