Improve Your Skiing With These Specific Tactics
We all ski because it's fun, right? Well, for the average skier, working on your technique and form can allow you to extend the fun times by being more efficient on the slopes. Unfortunately, there's no "easy" way to improve your skiing – it takes work. But, practice these specific tips and you'll start to see results on the ski hill.
All of these tactics are things I've learned over the years that have helped progress my skiing.
Take a private lesson
Getting a private lesson is a great way to work on your form and find new terrain. A good ski instructor will be able to help you identify (a) what you need to work on and (b) how to fix it. They'll be able to help you with specific skiing drills and give you advice on how to keep your technique in tip top shape.
Also, if you're new to a mountain, a ski instructor will be able to show you new terrain and insider lines.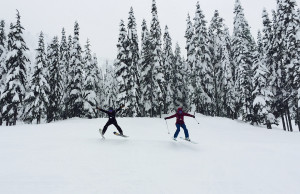 Take a group clinic
Group clinics will force you to push yourself. Typically, we ski with the same folks and can get into a rut. Taking a group clinic will force you to ski with new people and individuals of varying abilities. It will also challenge you to keep up with the group and get out of old habits.
I recently took a steep skiing clinic and it gave me new confidence to breakthrough old skiing habits and insecurities. Also, if the coaches are good, you'll come away with specific tactics to continue your improvement.
See our article about the top 10 women's ski clinics to find a session near you.
Hit the gym (get fit!)
At the steep skiing clinic, one of the coaches turned to me and said, "Got a gym membership?" Well, duh. Of course I do… I just don't use it as much as I should. Apparently, that's painfully obvious in my skiing! (Or kindly my husband said it was because I expressed I was tired). Being fit and having better leg strength can drastically improve your skiing – it will allow you to maintain your technique in challenging or steep terrain.
Cross-training and general fitness are often overlooked in improving skiing technique. Your cardiovascular fitness, leg strength and muscle stamina has a direct correlation into how hard you can ski and how your form holds together.
Mountain Athletics (by The North Face) has a great app that allows you to select your fitness goals and sports for customized training programs, including ski specific workouts.
Practice your technique
Figure out what you need to work on and actively practice drills. For instance, I know I need to work on three main things:
Keep my hands up (where I can see them)
Stay in the front of the boot
Maintain a better, more upright posture (bent knees, but not too bent)
Break these down and work on one thing at a time. If I tried to work on all three at once, I probably wouldn't have any lasting progression. Focus on one improvement – do specific drills and ski repeat runs working on this one item. Eventually, it will become habit and you'll be able to piece together your new (and improved) skiing technique.
Check out the Ski School on YouTube for specific skiing techniques and drills (including body technique, turning and powder skiing).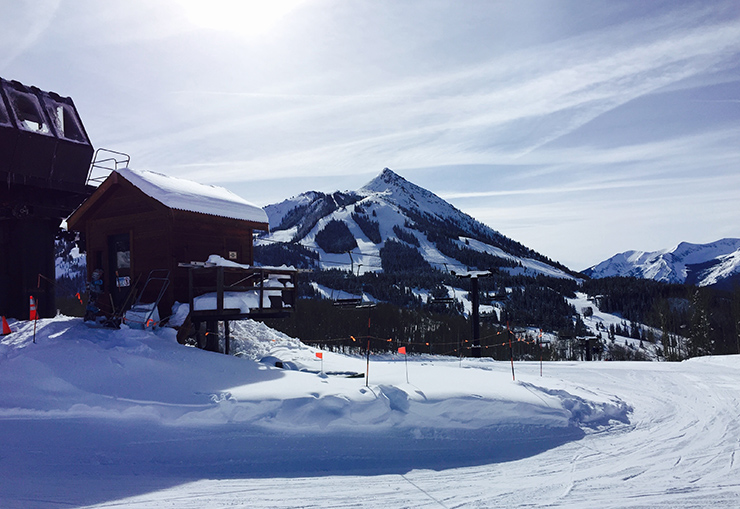 Push your comfort zone
Confidence is crucial when skiing in control and challenging yourself. Pushing your comfort zone can be scary and intimidating, but you'll never improve if you don't challenge yourself. I'm not saying huck yourself off 20 foot cliffs, but pick some do-able terrain that may have intimidated you before and ski it. Take baby steps, keep challenging yourself and you'll start to see a difference.
Get the right gear
Gear selection can be complicated with so many good skis and boots on the market. However, choosing the right gear can really make a difference depending on the type of terrain you want to ski and your ability level. When choosing gear, you'll want to consider a few things:
What type of terrain do you want to ski? (Off piste or on piste).
What's your budget? (Psst, past season discounts can be worth waiting for).
What's your ability level or how aggressive do you ski? (Some gear can be "intermediate" or "advanced-expert").
Once you've answered these questions, you'll be able to narrow down the type of ski you're looking for (carving ski, powder ski, all mountain ski, etc.) and the stiffness of your boot. Having well-fitting boots is essential for proper power transfer and control in your skis. Gear shops or online resources can usually help you find the right equipment.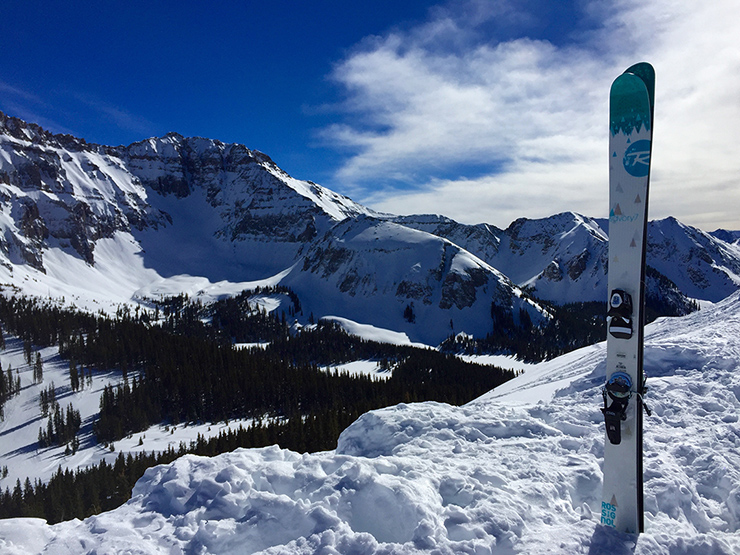 Ski more!
There's nothing that can replace this. To be a better skier, you have to put in the time on the slopes. It's hard when most of us have the weekday 9-5 job and can only get to the ski resort on the occasional weekend. However, to become an expert at any sport requires a commitment and you'll have to put in the time. Set a goal for yourself and try to structure free time to accommodate regular trips to the ski hill (or backcountry ski trips).